When the weather turns cooler, salad is not usually the first thing that comes to mind for lunch or dinner. However, salads can be hearty and comfortingly substantial without being too heavy during the seasonal shift to cooler weather. This BBQ beans and greens salad is inspired by Terry Hope Romero's Salad Samarai cookbook which I highly recommend. The salad is a modern take on an American southern barbecue with smoky, pan roasted beans, crunchy greens and mixed raw vegetables drizzled with a smoky, spicy and sweet salad dressing. This dish is a treat for all the senses – a perfect time to practice a little mindful savoring of your meal. It is as colorful as the falling leaves,  texture rich with crunchy vegetables versus  the smooth creaminess of avocado and beans to compliment the dance of sweet, spicy and sour on your palate.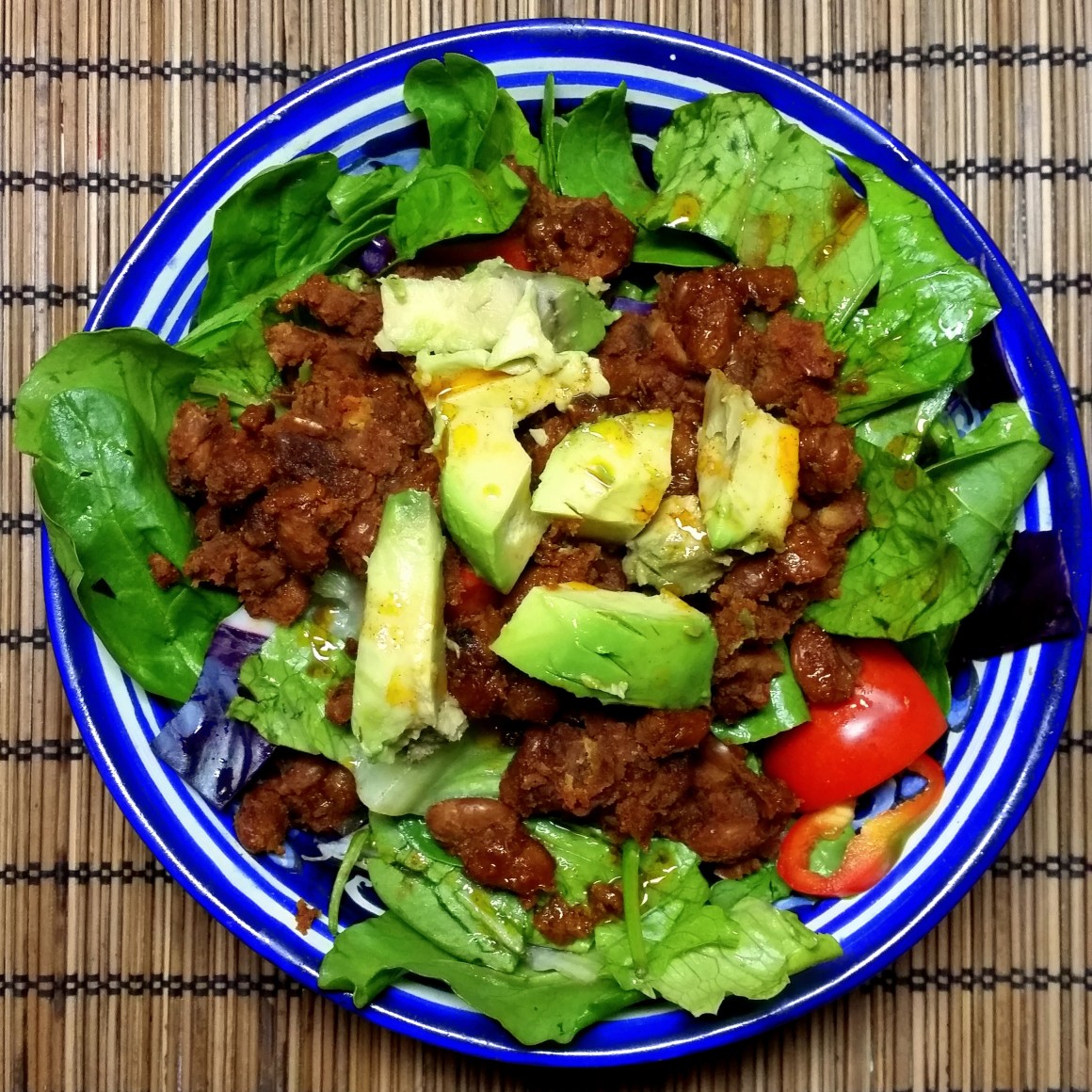 Barbecue beans and greens salad serves 4 Pan roasted BBQ beans 3 tablespoons olive oil 3 cups of firm cooked chickpeas or pinto beans or 2 (14 ounce)) cans of drained and rinsed beans 1 tablespoon Braggs aminos or tamari 3 tablespoons tomato paste, ketchup or barbecue sauce 2 tablespoons maple syrup 1 tablespoon smoked paprika 3 tablespoons nutritional yeast   Salad 8 cups mixed salad greens (spinach, kale, arugula, mesclun), washed and  torn into bite-size pieces 2 cups chopped purple cabbage 1 large carrot, grated 1 small red or Vidalia onion, chopped 2 cups cherry tomatoes cut in half  or 2 large tomatoes cut into bite-sized wedges ¼ cup raw, shelled pumpkin seeds 1 large or 2 small ripe avocados, cut into wedges or cubes freshly grated pepper to taste   Salad dressing 3 tablespoons apple cider vinegar 2 tablespoons olive oil 1 tablespoon maple syrup 2 teaspoons smoked paprika hot sauce to taste (optional)
 In a small bowl, whisk together the Braggs, tomato paste, maple syrup, smoked paprika and set aside. Preheat a large skillet over medium high heat and pour in the olive oil to coat the bottom of the pan. Stir fry the beans for a few minutes, then reduce the heat to low. Pour the sauce over the beans and simmer approximately 4 to 5 minutes until warmed through. Turn off the heat, sprinkle with nutritional yeast and set aside.
Toss all the salad ingredients except avocado and grated pepper together in a large bowl.
In another small bowl or canning jar, whisk or shake all the salad dressing ingredients together.
To assemble the salad, place ¼ of the salad vegetables on a plate or in a bowl. Drizzle with salad dressing. (Any extra dressing will keep several weeks in a closed container in the refrigerator). Top with one quarter each of the warm beans and cubed avocado.  Season with fresh ground pepper to taste.
Enjoy with corn muffins or garlic bread for a satisfying meal. All photographs taken by author.
---
---