Where I live, summer is giving way to cooler fall temperatures and the days are getting shorter. As the weather changes, I notice that my body is starting to crave warmer, more comforting foods. It's a good time to begin to shift from the astringent foods of summer such as raw salads to warmer soups and stews made with local vegetables. By eating seasonal foods, it can help improve the flow of your body's natural cleansing cycle as it adapts to the shift in the seasons.
I am lucky enough to have a garden which helps me eat seasonally so this soup was inspired by that, but you can get all of the ingredients for this simple soup at your local grocery or farmers market if you don't already have them in your kitchen. I added orzo to make it a heartier meal, but if you leave it out, this is a brothy soup that is easy on the digestion and a good transitional meal.
Fall Soup
Makes 6 servings ½ medium sized onion, finely chopped 2 stalks of celery, finely chopped 2 carrots, diced small 1 medium acorn or delicate squash, peeled and diced into small chunks 2 cloves of garlic, put through a press or finely minced 1 teaspoon ground turmeric or 2 tablespoons of freshly grated 8 cups of water ½ cup whole wheat orzo (optional) 2 cups, packed of torn greens (kale, spinach, Swiss chard arugula) 2 tablespoons nutritional yeast 3 tablespoons miso paste Sea salt and pepper to taste In a stock pot over medium-high heat, add the water, onions, celery, carrots, squash, garlic and turmeric. Bring to a boil, then reduce to a simmer stirring from time to time. When the vegetables are just about tender, add in the orzo if using and cook until al dente. Take the pot off the heat and stir in the greens, nutritional yeast and miso paste. The heat from the soup will wilt the greens while leaving them bright green and full of nutrients.  Please note:  miso should not come to a boil or the heat will destroy the enzymes in this fermented bean paste. Season with sea salt and pepper to taste. Other grain options – Instead of orzo, stir 1 cup of leftover cooked brown rice, millet, farro or barley with the greens, nutritional yeast and miso just to warm them. Serve in deep mugs or bowls, and breathe in the fragrant steam as you enjoy this nourishing soup.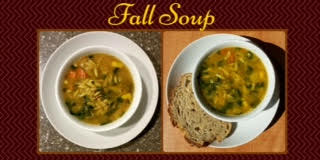 All photography by the author.
---
---